Information Links
---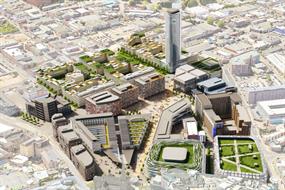 Birmingham City Council appoints consultant to lead on masterplanning and finding development partner for key mixed use site.

The recent publication of the pipeline of tall buildings in London, pulled together by consultant GL Hearn, showed a record 455 schemes over 20 storeys at stages between application and completion.

UK towns are under threat, but they can fight back by identifying their unique characteristics and defining their place with a brand, says Suzanne Malcolm.

I had one depressing and one encouraging place-making experience last week. The depressing experience was at a design review panel for a local authority-led scheme. The positive experience was in a meeting with an academic teaching urban design and urbanism.
1 comment
Thu 27 Apr 2017
Sixty One Whitehall, London SW1A 2ET
Wed 10 May 2017
The Lowry, Manchester