Information Links
---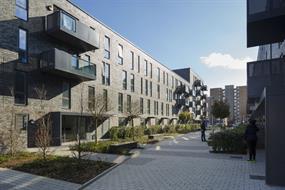 Developers tend to put private housing at the front of developments and hide the affordable housing, but it is possible to give equal status to different tenures without affecting values, finds Ben Kochan.

New communities secretary Greg Clark is too smart to believe that he can deliver 200,000 discounted starter homes by 2020, says Peter Bill.

The proposed Ipswich Garden Suburb on the edge of Ipswich could create an attractive green environment, but connectivity benefits appear aspirational, John Long finds.

The grid layout proposed for Sherford is classical, but some of the urban design ideas may appear as over-romantic, like a stage set, says Mark Pearson.
Fri 6 Mar 2015 - Sat 27 Jun 2015
Roca London Gallery, Station Court, Townmead Road, London, SW6 2PY
Thu 4 Jun 2015
King's Place, 90 York Way, London, N1 9AG, UK.
Wed 17 Jun 2015
ILEC Conference Centre, London