Information Links
---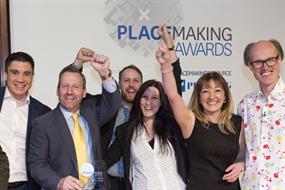 This year's Placemaking Awards culminated on Tuesday night with 14 projects across the UK crowned winners at a ceremony attended by nearly 300 regeneration and planning professionals.

One way to remove a little financial toxin from the planning system has presented itself this week.

We need to deliver affordable workspaces to make vibrant places, argues Chris Brown

The remote Heads of the Valleys communities in south Wales pose the toughest of regeneration challenges, says Tim Williams. But a development corporation and housebuilding could bolster their prospects.
Fri 6 Mar 2015 - Sat 27 Jun 2015
Roca London Gallery, Station Court, Townmead Road, London, SW6 2PY
Mon 27 Apr 2015 - Sat 9 May 2015
China Design Centre, The Building Centre, 26 Store Street, WC1E 7BT
Wed 29 Apr 2015
Room LG01, Central House, 14 Upper Woburn Place, London WC1H 0NN