---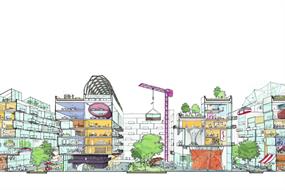 Sidewalk Labs and Toronto Waterfront have launched their Sidewalk Toronto collaboration, which plans to take on urban challenges with a new model community.

A survey of economic development practitioners in local government has found they are not being adequately supported to deliver. Suzanne Malcolm outlines the concerns.

Last week's pledge by Labour leader Jeremy Corbyn to end "forced gentrification and social cleansing" on large estate regeneration projects was hailed in some quarters as a transformative political move. But, many of the policies Corbyn put forward could have been taken from the government's own Estate Regeneration National Strategy (ERNS), published last year. Nevertheless, his promise to turn what is currently best practice guidance into legal minimum requirements raises issues.

Councils are facing a string of challenges in providing placemaking services but step changes in delivery can occur in challenging times, writes Steve Ottewell.
Tue 17 Oct 2017
Lyric Hammersmith, London
Wed 18 Oct 2017 - Thu 19 Oct 2017
London Olympia