Information Links
---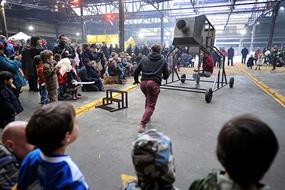 Temporary uses of development sites are becoming more common, says new research, and with the right council policies, they can become an integral part of the regeneration process. Ben Kochan reports.

Too many politicians are seduced by expensive ribbon-cutting mania for new infrastructure - when better use of existing infrastructure could be a better answer to congestion, says Tim Williams.

A Conservative peer's recommendation to halt the spread of shared space initiatives fails to recognise the real benefits that better streets can bring, says Phil Jones
1 comment

Planners who do not air their views on good design let bad design into the vacuum, says Peter Bill.
1 comment
Thu 3 Sep 2015
Central London
Tue 15 Sep 2015
St Martin in the Fields, London, WC2N 4JJ
Tue 22 Sep 2015
ILEC Conference Centre, London