---
Infrastructure
The infrastructure to support vibrant and viable places, including transport, utilities, energy and community facilities including education, retail, leisure & recreation.
Page Title RSS fee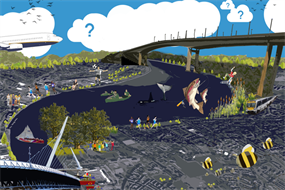 The river running through Derry-Londonderry has long been a focus for people in despair, but it could now become a catalyst for change, writes Josephine Smit.

Rerouting traffic around a central island on north London's Archway gyratory creates a public space and an attractive environment, but needs more greenery and street furniture, says Ian Hingley.
1 comment

It also needs smart government that can identify the needs of the city and use data to manage it, writes Tim Williams.

Tim Williams sees up close the damage done to city roads by prioritising car drivers' needs, and finds opportunities in technological change.
Tue 17 Oct 2017
Lyric Hammersmith, London
Wed 18 Oct 2017 - Thu 19 Oct 2017
London Olympia