Information Links
---
Infrastructure
The infrastructure to support vibrant and viable places, including transport, utilities, energy and community facilities including education, retail, leisure & recreation.
Page Title RSS fee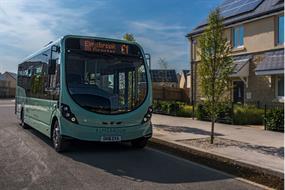 Simple road layouts, quite dense development and well-designed stops are important for successful bus provision in new settlements, finds Ben Kochan.

Bus services can be successfully integrated into town and city centres. Ben Kochan finds out how.

Combining autonomous vehicles and good place-making is not going to be easy.

Construction of the first phase of the planned High Speed 2 rail link will start next year, and second phase route will be announced soon.
Thu 2 Mar 2017 - Tue 28 Mar 2017
Exeter, London and Gateshead
Wed 8 Mar 2017
Central Cardiff
Mon 20 Mar 2017 - Tue 21 Mar 2017
Molineux Stadium, Wolverhampton, WV1 4QR