---
Infrastructure
The infrastructure to support vibrant and viable places, including transport, utilities, energy and community facilities including education, retail, leisure & recreation.
Page Title RSS fee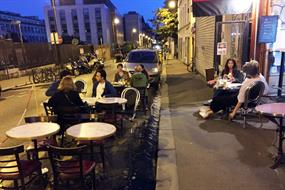 Councils are closing roads and narrowing streets to enable cafes and bars to reopen, but they need to work with businesses to understand their needs, finds Ben Kochan.

Temporary measures are being introduced in cities to encourage people to continue cycling and walking as lockdown is loosened. But there's the potential to think bigger, writes Chris Brown.

Councils should be looking at ways to enable safe walking and cycling for both the shorter and the longer term, finds Ben Kochan.

Zaha Hadid Architects' design for pair of mixed use towers gets approval from housing secretary Robert Jenrick.