---
Infrastructure
The infrastructure to support vibrant and viable places, including transport, utilities, energy and community facilities including education, retail, leisure & recreation.
Page Title RSS fee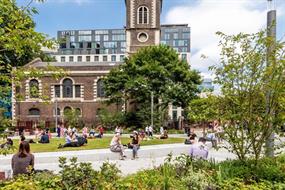 Greening junctions and roads can be part of active travel strategies to encourage greater walking and cycling, writes Ben Kochan.

Identifying attractive walking and cycling routes needs to be at the centre of strategies to promote the 15-minute neighbourhood, finds Ben Kochan.

COVID response measures have highlighted the difficulties in moving to healthier and more sustainable forms of travel and placemakers need to be assertive to enable change, writes Chris Brown.

With declining car ownership and the possible introduction of autonomous vehicles, parking needs to be designed so space can be adapted for other uses when it is no longer needed, finds Ben Kochan.