---
Infrastructure
The infrastructure to support vibrant and viable places, including transport, utilities, energy and community facilities including education, retail, leisure & recreation.
Page Title RSS fee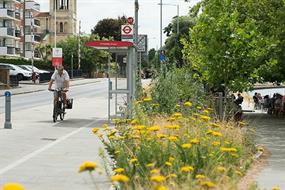 New cycle lanes have been accompanied by imaginative public realm improvements in a project carried out as part of Transport for London's Mini-Holland initiative, writes Ian Hingley.

Live music venues bring vibrancy to urban centres and with good planning and design, friction with local residents can be avoided, finds Ben Kochan.

There has been a lack of land-use and transport integration at the heart of infrastructure appraisal, writes Tim Williams.

The Ordsall Chord project has both improved rail connections in Manchester city centre and created a network of successful public spaces around it, finds Murray Graham.